Improving Lab Efficiency
CSols help laboratories using Agilent Instruments, LIMS and CDS systems produce quality results quicker and more economically with consistent turnaround times to both internal and external customers alike and to meet the requirements of accreditation bodies such as UKAS, NELAC, EU, FDA, ISO17025, GxP, GCLP, ISO, CPA.and others.
Agilent 720 ICP-OES
CSols new bidirectional Links for LIMS driver for the Agilent 720 ICP-OES (formerly Varian) is now in routine use. The software driver helps create instrument runs for the ICP Expert II software package running the instrument and then reads the automatically generated export results file. Finally Links for LIMS reads and formats all the results in a convenient matrix ready for reporting or sending to LIMS.
Agilent MassHunter
New versions of the Links for LIMS drivers for the Agilent LC-MS/MS and ICPMS versions of MassHunter have also been implemented in busy laboratories. These have simplified operation during setup (LC-MS/MS) and extended use where multiple measurement units are used across different methods, and where flagging of internal standard failures is required (ICPMS) when approving results.
Upcoming Events and Contacts
See CSols at the FSEA 2013 Spring Meeting: May 22-24, 2013, Florida, USA
See CSols on Stand B24 at Lab Innovations: Nov 6-7, 2013, NEC Birmingham, UK
Further Information
CSols Ltd
The Heath, Runcorn, Cheshire, WA7 4QX, UK
Links for LIMS and AqcTools
We have used both our Links for LIMS and AqcTools software for a variety of laboratory instruments
including those which use Chemstation, EZChrom or MassHunter software
Recently we have seen an increasing interest in linking
LC-MS/MS, ICP-MS and GC-MS
instruments to LIMS or LIS systems especially in Hospital/Clinical, Water/ Environmental and Analytical Services Laboratories. This is due to the improved running costs, flexibility and capability of this technique compared to other methods.
Systems range from single user to those running with a bi-directional interface to LIMS / central servers and supporting 100's of users across multiple departments. Systems operate 24 hours a day and can routinely process millions of samples per year. Links for LIMS is in routine use with many Agilent customers.
CSols AqcTools™ is software for monitoring and improving analytical instrument performance and statistical analysis and charting of quality control samples
. This leads to improved monitoring of instrument and analytical performance and hence correct intervention to ensure the highest sample result quality and regulatory compliance at all times.
AqcTools was co-developed with South West Water and they use a client server based implementation of AqcTools with their LIMS system and a range of automated and manual processes. Users are able to run statistical analysis and charting of all analytes at networked workstations as well as directly from the CSols Links for LIMS instrument integration software.
Are you or your customers collecting planned or ad hoc samples and performing field based measurements? CSols Remote Sampler™ is a handheld based, PDA / Tablet PC ruggedized system that incorporates a barcode or RFID reader and on board software to guide samplers to the right location for accurate and verifiable sample collection and labelling.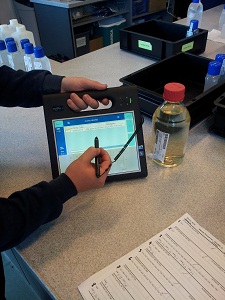 Remote Sampler Systems have been deployed at Intertek, South East Water, Northern Ireland Water and at Northumbrian Water and are all connected to LIMS Systems.
Click here to read the Northern Ireland Water Case Study:
Integration of LIMS and CSols Remote Sampler at Northern Ireland Water Delivers Enhanced Audit Trail, Significant Time and Cost Savings

RFTrackIT

™
Laboratory Sample

and Asset Tracking Solutions
CSols expertise extends into the field of Radio Frequency Identification / RFID labelling for laboratories. Although this technology has been around for many years, barcode based labelling is still the main technology used in laboratories. RFID has a number of advantages which could provide major time and efficiency savings.