Improving Lab Efficiency
CSols help laboratories using Thermo Scientific Instruments, LIMS and CDS systems produce quality results quicker and more economically with consistent turnaround times to both internal and external customers alike and to meet the requirements of accreditation bodies such as UKAS, NELAC, EU, FDA, ISO17025, GxP, GCLP, ISO, CPA.and others.
CSols new bidirectional Links for LIMS driver for the Gallery discrete analyser gives a new level of access to the instrument providing improved hands free automation. Other work with Thermo Scientific instruments has also seen successful connections to the new Aquakem 600 discrete analyser.
AquaKem and Gallery instruments are connected to SampleManager at companies like Veolia (Affinity Water) and South East Water and to Gallery at Portsmouth Water.
Upcoming Events and Contacts
See CSols at the FSEA 2013 Spring Meeting: May 22-24, 2013, Florida, USA
See CSols on Stand B24 at Lab Innovations: Nov 6-7, 2013, NEC Birmingham, UK
Further Information
CSols Ltd
The Heath, Runcorn, Cheshire, WA7 4QX, UK
Links for LIMS and AqcTools
We have used both our Links for LIMS and AqcTools software for a variety of laboratory instruments as well as Aquakem, Gallery and robot interfaces.
Recently we have seen an increasing interest in linking
LC-MS/MS, ICP-MS and GC-MS
instruments to LIMS or LIS systems especially in Hospital/Clinical, Water/ Environmental and Analytical Services Laboratories. This is due to the improved running costs, flexibility and capability of this technique compared to other methods.
Systems range from single user to those running with a bi-directional interface to LIMS / central servers and supporting 100's of users across multiple departments. Systems operate 24 hours a day and can routinely process millions of samples per year. Links for LIMS is in use with Thermo Fisher customers eg at South West Water, Veolia (Affinity Water), Northern Ireland Water, Northumbrian Water and other sites.
CSols AqcTools™ is software for monitoring and improving analytical instrument performance and statistical analysis and charting of quality control samples
. This leads to improved monitoring of instrument and analytical performance and hence correct intervention to ensure the highest sample result quality and regulatory compliance at all times.
South West Water use a client server based implementation of AqcTools with their SampleManager LIMS and a range of automated and manual processes. Users are able to run statistical analysis and charting of all analytes at networked workstations as well as directly from the CSols Links for LIMS instrument integration software.
Are your customers collecting planned or ad hoc samples and performing field based measurements? CSols Remote Sampler™ is a handheld based, PDA / Tablet PC ruggedized system that incorporates a barcode or RFID reader and on board software to guide samplers to the right location for accurate and verifiable sample collection and labelling.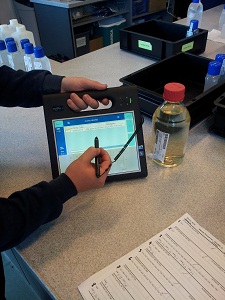 Remote Sampler Systems have been deployed at Intertek, South East Water, Northern Ireland Water and at Northumbrian Water and are all connected to Thermo Fisher Sample Manager Systems.
Click here to read the Northern Ireland Water Case Study:
Integration of Thermo Scientific SampleManager LIMS and CSols Remote Sampler at Northern Ireland Water Delivers Enhanced Audit Trail, Significant Time and Cost Savings
.